Categories:
Jewelry & Watches
Summer occasion, MCM brand image of classic blend of classic elements with modern design aesthetics, presenting the new eyewear collection again. With excellent technology and advanced technology to create high-quality eyewear collection, more innovative design and unique style of the unexpected highlights the brand's unique creative spirit.
Navy blue retro round glasses shooting Bazaar jewelry fashion large
Adhering to the retro style and modern appearance of the perfect fusion of bold section metal frame glasses lens covered with MCM classic pattern. Double metal frame to make the appearance more perfect. Design with light bright gold, blue and bright gold and copper.
Wine red cat eye sunglasses
Coloring balance each cat eye frame with the classic distinctive achievements of the bold avant-garde style. Metal trim lens combination decorated with metal rivet detail of the frame, and metal brand plaque decorated with temples to each other. Series with black, tortoiseshell and red wine.
Supermodel Erin Heat at MCM boutiques try surreal translucent frame sunglasses
Lightweight and translucent colored implementing brand fashion concept and design aesthetics, the avant-garde of the frame shape with smooth lines and metal rivets highlight industrial design elements of fun. Series with gold satin with gray satin and gold with light gold.
Diamond Rivet large frame sunglasses
Series with elegant diamond shape for the design blueprint, the unique triangular design clear and neatly decorated in the mirror leg beams and decorated with metal logo. Frame in front of the semi-metal rivet diamond-shaped frame for the King of crude to create a unique fashion style. Series with black, tortoiseshell, wine red, light brown and green.
Classic frame design, with geometric mirror leg rivets and small metal diamond as a decoration, to create a brand well-known masterpiece. Inspired by the iconic MCM backpack series, brand logo placed in the avant-garde designs temples. Series with black, tortoiseshell, wine red, blue and pink nude.
Inspired by MCM classic leather series, the quality of its printed sheet mirror leg special brand classic pattern. Wide rectangular frame with golden brass nameplate next to the temple, consistent with the nameplate on the MCM handbag. Series with matte black, light rose gold and matte brown with a golden yellow, respectively.
Both bold and avant-garde and classic, retro brow with round mirror frame, and stylish metal trim, front frame decorated with diamond shaped rivets two and a half, and the mirror leg of MCM metal nameplate embraced each other. Series with bright gold with a black, light gold with tortoiseshell, horn with a bright golden brown, light gray-blue and golden horns with bright gold with horns khaki.
A sleek sophisticated flight details of classic metal glasses more Ambilight. Easy to fold its lightweight frame structure, unique. MCM logo subtly placed in the upper right corner of the lens, glasses with matt black, glossy pink gold, bright gold and black chrome-plated.
Tags: sunglasses MCM
comnum(0) tbcount(0) tbcount(301)
Categories:
Other Brands
Introducing the Dior So Real Sunglasses. The So Real Sunglasses are one of Dior's most popular sunglasses for this season. It was first released during the Spring / Summer 2014 Collection. The sunnies have been spotted on many celebrities including Rihanna, Olivia Palermo and Rita Ora. It has a "pantos" shape which is a vintage eyeglass shape from the 50s and 60s. The So Real sunglasses are available in a variety of shades featuring reflective mirror lenses that have 100% UV protection. It features metal brow bar frames with metal and enamel arms.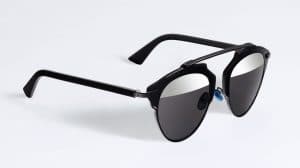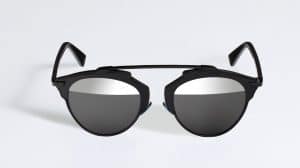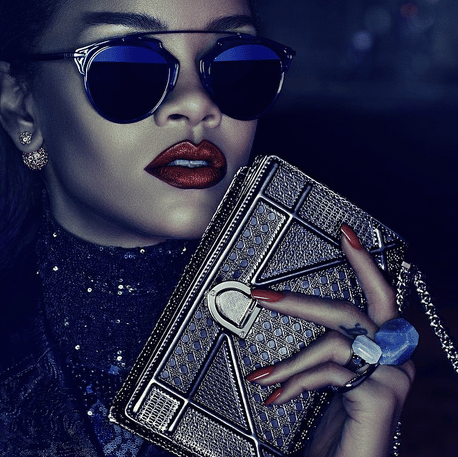 Style & Price
| Style | Price |
| --- | --- |
| Dior So Real Sunglasses | $505.00 (USD) |
| Dior Havana So Real Sunglasses | $530.00 (USD) |
Gallery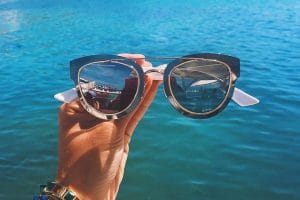 IG: songofstyle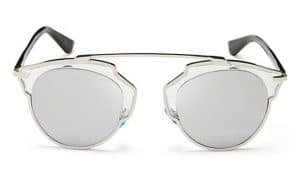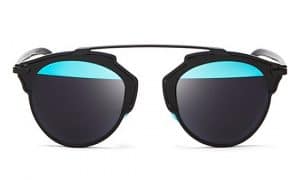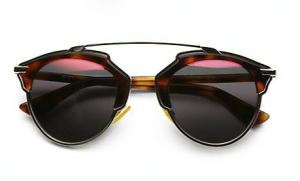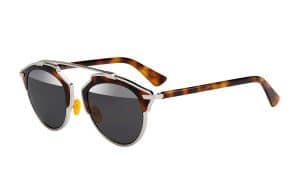 Source: Dior
Tags: Dior sunglasses So Real Mirror
comnum(0) tbcount(0) tbcount(1048)
Categories:
Louis Vuitton
There is not a perfect Spring travel if you don't have a great sunglasses when you have a trip. Shaun White's achievements are too many to mention here. And the Oakley Shaun White Spring Sunglasses in colorful which perfect in the Spring season. Shaun White worked closely with Oakley to produce two sunglasses as part of his signature collection and now there is a third model – Oakley Enduro sunglasses, which perfect match with Louis Vuitton Monogram Pallas Bag when you have a travel.
Look at the pic, we will find new Oakley Enduro Sunglasses 2014 built with a lightweight O Matter frame, the vintage-inspired silhouette features smooth, rounded curves, available in both solid colors or tortoise patterns. And the New LV Monogram Pallas Bag which also the one of most popular handbags from last year to this year. This new handbags is a tote bag in Monogram Canvas with toron handles which plus an adjustable and removable strap with double zip closure. There are available four colors for sale at our site for free shipping!
Louis Vuitton M40908 Monogram Pallas For Sale
Material: Monogram canvas
Fuction: Shoulder Bags And Totes
Color: Quetsche,Aurore,Havane,Safran
Size: 13.4 x 10.2 x 4.7 Inches
Price: $230.99
Tags: Louis Vuitton sunglasses
comnum(0) tbcount(0) tbcount(529)
Categories:
Louis Vuitton
At the upcoming Spring time, we take a view of the latest fashion sunglasses design. This is our first time take a view of the Supreme sunglasses since it introduced in its own in-house line of sunglasses four years ago, the brand's sunnies are included as part of the seasonal preview.
Look at those new sunglasses 2014 Spring/Summer collection, we will find four different bright colors with fashion design. In the collection, those Supreme sunglasses well made in good quality, and there is the Wellington, handmade in Japan and available with clip-on lenses, the Tunnel, handcrafted in Japan and representing the only metallic frames included in the mix. Louis Vuitton sunglasses also well made in luxury materials with fashion model which very popular among people. Now, visit our site for more accessories in the upcoming Spring time.
Tags: Louis Vuitton sunglasses
comnum(0) tbcount(0) tbcount(554)
Categories:
Other Brands
Your first warning with a site like this should be the ridiculous price. 'Ridiculous' when it comes to price usually refers to an outrageously high number. In this case it`s way too low! If someone tells you they`re going to sell you a high quality replica handbag for $21 you might as well ask if they`ll throw in a stolen car for another fifty bucks. Good china handbags.com may be honest about the value of their bags, but that doesn`t change the fact that they`re useless.

Quality
The quality is in perfect balance with the price – terrible, absolutely terrible. I didn`t expect much. In fact I expected a disaster and, well, that`s what I got. I bought a laughable Coach Madison Tote, which is a lovely bag in reality, and I`ve been on the hunt for one for a while. When I found one here for 21 dollars I nearly fell over, and for the sake of the review went ahead with it.
The logo was upside down! How in the world? The poor guy in the factory must have glued a thousand of these on that day, and well, got dizzy!
The canvas is really cheap, the leather feels like vinyl bus seats, the zipper was bent and flimsy, the interior is hideous, and with an upside down logo and a crappy signature Coach pattern, there`s not much to redeem this bag.
Selection
To be honest, who really cares? If all the bags are $21, that means they`re worth, what? $5? Do you really care if there are 10 or 5000 bags that are worth $5? Not a single one is going to be worth buying, unless you`re hoping to have a costume party! For what it`s worth, they have pretty much all the possible types of product that you can get in replica, from bags to clothes, shoes, watches, jewelry and wallets.
Shipping
Shipping came from China in a very strange and mysterious package. It took two weeks and looked rather disheveled upon arrival. As for their shipping policy, there isn`t one! There is no text whatsoever on the site. You`re completely in the dark!
Return Policy
There isn`t one! Now that`s unheard of. On the site there is no declared return policy, which if the bags weren`t only $21 would completely rule out any purchase. It`s not like you`re taking a big risk…When I called and asked the poor guy had terrible English, and he seemed to suggest that yes, you could return a damaged bag, but how, he couldn`t explain. He told me to email.
Site Usability
The pictures of the bags are too small, and there`s only one picture for each bag, which makes it awful difficult to get any real sense of them. The layout of the site is fine, but the utter lack of information, either in terms of the features of the bags, or the return and shipping policies is unforgivable.
Service
They meant well, I assume…but that`s not good enough. The staff was an absolute headache to get a hold of and they barely understood anything I was saying. I am honestly not the kind of person that feels it`s ok to slack someone simply because they`re not a native English speaker, but when it comes to customer service world wide, it`s absolutely essential that you be able to communicate. If you`re going to receive credit card payments especially, it`s not a question.
My Humble Conclusion
The only reason I`d see someone wanting to buy one of these bags is if they were having a costume party and everyone wanted to dress like a candy store version of a fashionista. You could get all decked out in the clothes, watches, handbags, wallets, shoes, sunglasses, head to toe in terrible quality replica and have a great time. If you plan on taking your purchase seriously, stay way the heck away from here.
Tags: handbags wallets watches shoes clothes sunglasses
Categories

New Posts

Hot Posts

Tags